Hi Everyone,
We are pleased to announce that "Mal's Sossie Run" is back, after being cancelled back in March (18th March) due to Covid-19

For those that wish to, we will meet at Costa Coffee at Sainsbury's Broadcut at 18:00 onwards and depart at 18:30 prompt, for The Sussex Brewery, 36 Main Road, Emsworth PO10 8AU to arrive at 19:00 and be ready to eat at 19:30. Those that wish to can meet us straight there at the venue but must be there for 19:00!!!
NB: Unfortunately, I am unable move this time, as we are taking over the whole of the venue's eating areas. Its also worth noting that once seated, other than visiting the WC people are requested not to move around around and chat but stay in their seats for the duration.
Unfortunately, in these strange times that we are currently going through, we are officially limited by the MX5OC to 30 members only for drives and events but in addition to this, However, The Sussex Brewery have advised, that they can only accommodate 22 people in order to comply with Covid-19 restrictions for your safety.
To this end, this event will be run on a first come first served basis, so be sure to book your places early, to avoid disappointment and by 11th September at the very latest.

A reduced menu is in operation, as they are not currently offering the sausage platters, so the Sossie Menu choices are, as follows;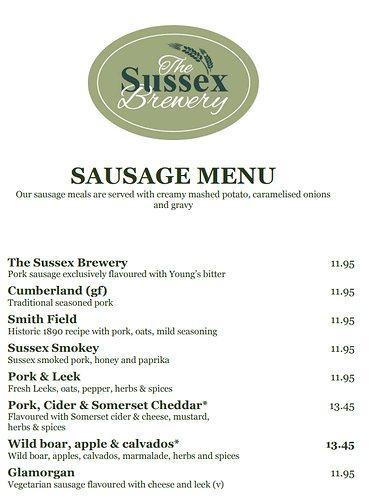 The reduced main menu is given below also;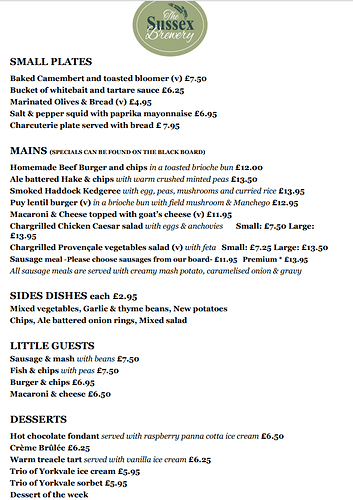 Please reply to this forum post only, with your meal choices and also pay me the required amount for your meal including any starters and side dishes and remembering to add 10% of your total bill as a tip for the staff, who do an excellent job and always make us feel most welcome, which saves a lot of faffing about with tips at the end of the night.
Payments are via PayPal only and to my PayPal Account: malrowland21@gmail.com and I will log peoples payments as I receive them, ready to pass to the venue with our meal choices just a few days prior to the event. Remember to check the box for paying a friend or relative to avoid any charges.
Finally, the car park at the venue is not big, so as before, carry on along the A259 a short distance (130m) and you will see a right hand turn, Thorney Road, on the right. Go down here and park where safe to do so.
Best Regards
Mal, Serena, Terry & Diane