Hi All,
A few weeks ago I got the MX-5 out of the garage after its winter hibernation and checked it over before submitting it for an MOT and oil/filter change. I noticed there was some old oil around the bottom of the clutch housing, but nothing dripping so cleaned it all up and didn't think too much of it. It passed the MOT without any issues.
I got my MX-5 out of the garage today and noticed some oil on the floor. Initially I assumed the garage had been a bit messy doing the oil change when removing the old filter. I put the car up on ramps and found where the oil was dripping from. Click the images below to enlarge them.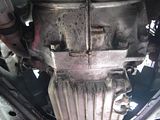 I cleaned up the oil, and then ran the engine for 20 minutes, when I came back I noticed there was more oil there already:
Again I cleaned it up, dried it off and ran the engine. However this time the oil hasn't returned: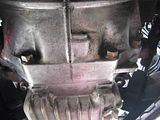 I wondered if the oil circled below could be the source. It's not something I've ever noticed before, but should this hole not be covered?
Has anyone got any idea where this oil is coming from? I can't see anything coming from the engine. In the past when the CAS gasket failed oil ended up near here, but all that area is bone dry this time. Confused on this one…
Cheers…