Kitchen or Bedroom. ???

Just been to Tesco, the one furthest away. Of course we got the NC out the garage.
It's sad of course to have get to the shop early just to buy milk and flour and some fruit and veg, they even had toilet rolls.
Now where to take the missus for her birthday today. She doesn't want to do the usual, meal out and visit somewhere so it's a drive out (MX-5 of course) a walk with flask and sandwiches.

I've no choice, lovely sunny weekend forecast asking for top-down action, but we have four cubic metres of finely composted bark to spread on the assorted beds in the garden.
I may be some time…
It's the last day I can renew my MX5OC subscription without adding another £5 or so for letting lapse. Bit hard to justify now, at full price anyway.
I hope it doesn't come down to restrictions on even solitary excursions, if anything it was an ideal opportunity to drive to some woodlans or coast since there'll be little else to do.
That's a difficult one to call, if we are told only necessary travel. If you go out for a drive (if allowed) then some would say but what if you have a mishap/accident and need medical attention? Using resources which are stretched to bursting point ATM.
On the other hand, I've just been a walk down the canal with my good lady, it's a regular walk we do. 18 months ago we did the same thing and she ended up in A&E with a broken ankle, in fact she turned her ankle this morning, all's well though.
What do we do for the best, we may have an answer very soon from Boris?
This week I went into the garden to 'self isolate'.
Painted and planted some wooden edging along some of the beds, then began putting the composted bark into the beds. Snag, it shows how uneven the lawn is… I guess that will be next…
One cubic metre done so far, three more to go.
Taking the decision to tax the NC on 10th March so we could get out and about in that, I've now put it back on sorn. Sad times but it had to be so.
At least my other car passed its MOT yesterday so all good but that the least of our worries right now.
So here is a pic of one bit where the changes are the most obvious, the espalier apples and their newly edged bed are looking much more tidy now. Some buds and new leaves just visible on the apples.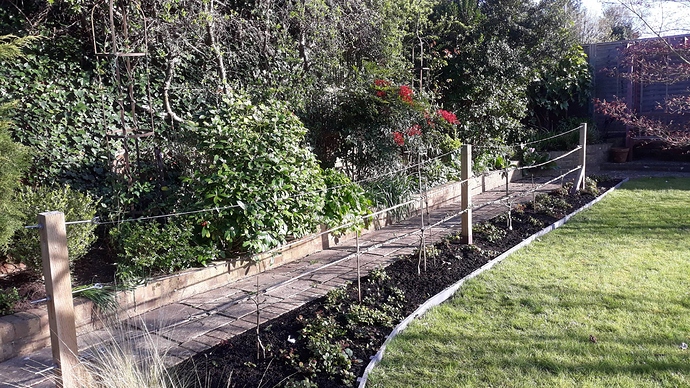 Time in the garden again, this is where we're growing some seedlings, first on the kitchen windowsill, then potted out. However an interloper has got in among the Sweet Peas and Antirrhinums. SWMBO decided to keep it going to see what it will become. Myself, I think it's grass, but what do I know? I'm not a gardener.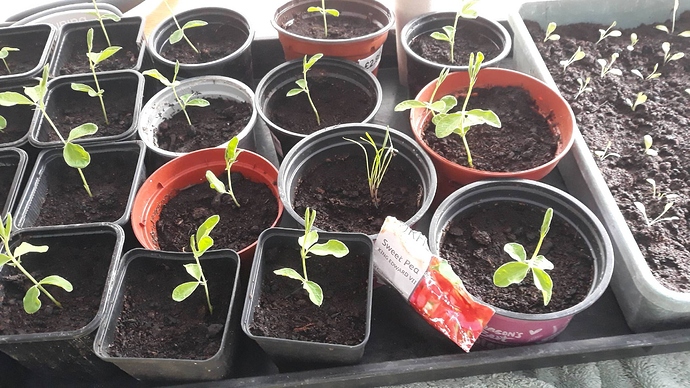 Same here today, my wife does the growing from seed I deal with the rest of the garden.
Big plans for our garden this year, now on hold, was planning on buying a shed and greenhouse and ripping the lawn up and remodeling the whole area.
Wife worked for many years on the front counter of a police station. On one occasion an old boy came in with a plant and said 'I've found this growing under my bird feeder, is it what I think it is?'. The answer was yes. It was a cannabis plant. He was given instruction to dispose of it but under no circumstances to put it on his bonfire. Most of the locals were crazy enough already.
It would have been hemp, industrial hemp, same family as marijuana but it is not potent and is grown for its seed, which is high in oil and protein and used for many purposes both in birdseed mixes and healthfood products, the fibre of course is used for ropemaking. Some years ago a local farmer was growing hemp in two of his fields which unfortunately were right alongside the M25. Word got around among the "smackheads" that there was "weed" growing, so for days the M25 was subject to delays caused by abandoned vehicles as they descended in droves to gather as much as they could, it made national TV news. The poor farmer was ordered to bulldoze the whole crop to prevent further mayhem. Marijuana plants won't grow outside in the UK as they need much higher temperatures to flourish, that's why they are grown under cover with special lamps to nurture them. There was a big fire in some apartments over a big store locally and when the fire brigade got inside they found the whole lot were in fact a marijuana factory! The fire had started when one of the lamps fell over and ignited some of the fixtures and fittings,
We had the same thing. My wife had got into the habit of blowing husks from the canary's seed pot out of the lounge window, onto a flower bed, which was in a very sunny, warm corner next to the house. I realised we had a hemp plant when it reached two feet high and there was a strange smell coming from it.
It would have been very embarrassing, bearing in mind that I worked for the police at the time and part of my job involved searching for "funny stuff" growing in peoples' houses.
SWMBO is looking at her seedlings and muttering about "drought" and "hosepipe ban" having seen the latest forecast for another fortnight of unbroken sunshine every day.
Perfect top-down weather and locked down. And I don't have enough room to even be a Hoonigan and do do-nutters to annoy the neighbours.
I was supposed to be helping out as a marshal/observer on the Motor Cycling Club's Land's End Trial today; it's been my regular Easter weekend thing for a number of years. I usually drive down from 'oop north on Good Friday, get a couple of hours kip in the car then observe and mark the bikes and cars coming through a hill climb section near Bude. The section is open from the early hours until about 0930 and then I drive further south to spectate on another section near the finish at Hayle in Cornwall. Then I stay overnight and drive back Easter Sunday.
Obviously, that wasn't going to happen, especially as I'm recovering from major abdominal surgery and I'm presently in "home lockdown".
So I'm about to "go away" in the caravan instead.
It's staying on the driveway but I'm going to get my wife to occasionally walk past with a sign saying "North Cornwall", making a noise like a seagull.
Just seen a convertible mini go by, top down, driver swathed in heavy jacket, close fitting hat, latex gloves, goggles and a mask, gender indefinable. It's 23 degrees C ! Why not stay at home!!!
Less than a week from just a few buds threatening to show on the apples, we have this now, Falstaff on the left and James Grieve on the right of the supporting post. I'm half considering grafting the two branches together when they are just a little thicker.
Eventually (if I'm still around) it would be nice for the espalier to be self supporting, no wires and no posts just pleached apples holding each other up.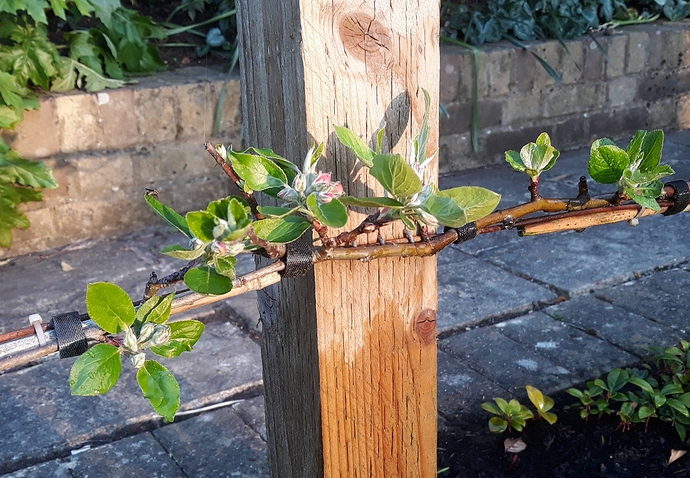 To be honest Richard I can't see that happening, even fairly thick branches will sag/bow under the weight of a good crop of fruit,
Well I drove the mazda 20' today, 10' out of the garage with the top down to air it out, as when I first bought it one of my sons said you need to put your own mark on it, and took out the air freshner that the dealer had put in, and sprayed some of his ebay aftershave on the carpet which smells like a cross between Frankincense and cats piss, so after a short airing,its a 10' drive back into the garage

Boz