Hi Everyone,
I've just become the proud owner of a 2004 Mk2.5 Sport. We had a similar looking silver 2002 Mk2.5 Arizona 11 years ago that we had to trade in towards a diesel Mondeo estate when the kids came along. I've been itching to get another one ever since and finally having the space and the spare(ish) cash to run a weekend car I'd been on the look out for a year or so. For obvious reasons there's not been many cars on the market so was very happy to finally find a car of the perfect model, year, mileage & colour combo I was looking for.
Initial excitement was somewhat tempered as when I got the car home I discovering an oil leak that I'd missed when inspecting the car. A local garage was good enough to put the car up on one of their lifts and we managed to confirm my google diagnosis that it was the output seal on the gearbox. Unfortunately they declined the job to fix it, as did another garage that I approached. Blink Motorsport in Winsford were very helpful but it was going to be 7 weeks before they could fit me in. The car was always meant as a project car so I decided it was time to stop moping about and do the job myself. Multiple deliveries and trips to Halfords, Toolstation etc later I was fully kitted out with a new seal and all manner of exciting new tools. Having bought the Sport model I'd always wanted instantly came back to bite me as there's a load of extra bracing etc that had to be removed just to get to the gearbox and prop shaft. With the help of YouTube and a trusty Haynes manual I managed to get the bracing off, gearbox oil out, prop shaft out, old seal out, new seal in, new oil in, prop shaft back in and the bracing all back on without any broken or stripped bolts or dropping a car on myself. Needless to say the smile was very much back on my face when after an cautious pootle around town and then a more spirited run around the local lanes the Castrol stayed where I'd put it.
Here's a pic of my new flying car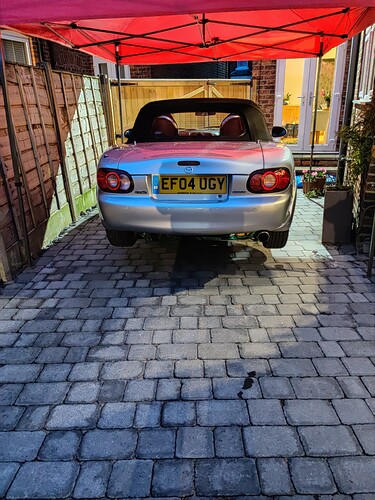 Looking forward to attending some events soon and getting to meet some of you!
Adam