Hi all, I've been a member as can be seen for a few years but not been an owner or active member for a while so thought I would post my story of my recent purchase.
I've owned a few over the years na,nb and a really smart nc but one I always liked was a mk 2.5 Sport I had in red.
Anyway after selling my na mx5 RS in 2019 to get back into my other favourite car (Porsche Boxster) I then swopped that for a really fast BMW M240i convertible. This was probably too fast and not as fun as the lighter Porsche or Mazda and so that was sold in April. I started looking for another Porsche however prices just skyrocketed and I wasn't prepared to pay such inflated prices.
What had caught my attention however was a beautiful red mk2.5 sport advertised on autotrader. It looked in fantastic condition and had only got 20900 miles on the clock. It was strong money though for a nb so I just kept my eye on it initially to see what would happen, would it sell or would the price come down?
Anyway to cut a long story short, towards the end of June the car got discounted to a more reasonable price I was happy with and I went to view. It was very original and actually looked almost brand new inside. The bodywork was also in near perfect condition and had clearly been garaged probably heated for the majority of its life. I took it for a drive and it was shocking!!! It pulled to the left and drove a little rough imo. As I've had a few mk2's I knew this wasn't right but I was confident the car was good and the poor drive was probably due to the tyres and the fact the car has hardly been used since 2005!!
I got back from the test drive and checked the date stamp on all the tyres. They all had plenty of tread on however were all the originals stamped 2001 therefore 20 year old rubber.
Despite the poor test drive I knew it was a good car and I wanted it so after a little negotiation further on price due to it clearly needing money spending on it to get it back tip top a deal was done.
After another not so nice drive getting it home (luckily it was local and relatively on my doorstep just 15 miles away) I set about getting the car right. I first checked the tyre pressures. This was clearly where the problem with the handling lay. 3 of the 4 tyres were over inflated, I'm guessing for storage purposes, they were at 46psi, what made it worse was that the other I'm guessing had a slow puncture and was at 19psi so totally unbalanced. I set them all at 26psi and took it for a quick spin around the block. It drove much better but still not perfect, but at least more driveable.
I quickly ordered a set of brand new uniroyal rainsport 5's for it as I've had the rainsport 3's in the past and rated the tyre.
These were all fitted and balanced and the cars handling was sorted.
Next up was a service. I'd been told it had been recently serviced by the seller and the oil did look nice and clean. However, a quick look at the air filter showed it to be an original Mazda one which was filthy. From this I assumed the previous 'service' must of just been an oil one so I've changed all the filters and plugs and some fully synthetic oil.
The slightly rough running I had noted on the earlier test drive had now gone.
The cars paintwork was already really good however improvements can always be made so I have then machine polished the car and treated the roof.
So the car, it was bought new from the local Mazda dealer in Derby. It was driven by the first owner as normal for the first 3 years until around 2005 where he became ill and stopped driving it. It was secured in his garage which we believe was heated. Sadly the owner never got it back on the road due to his health, he then passed away I believe sometime 2019-2020. It was sold off with the gentleman's estate in 2020 and bought by a local business man who also lived locally in Derbyshire. He was into cars and bikes and had quite a few 'toys'.
He gave the car its first ever MOT in September 2020. He also garaged the car and it was just stored and not really used.
This brings us up to date and due to him relocating to Cornwall he decided to sell some of his toys with the mx5 being one.
Yesterday I had the nervous job of taking it for its second MOT. Even though I was confident it was all good it's always not nice waiting for the results. Luckily the tester is also an mx5 fan and has a mk2 himself. It passed with no advisories and he said the car was like new underneath and the cleanest he had ever seen, so that was nice!
Anyway if you are still awake after reading all this here she is;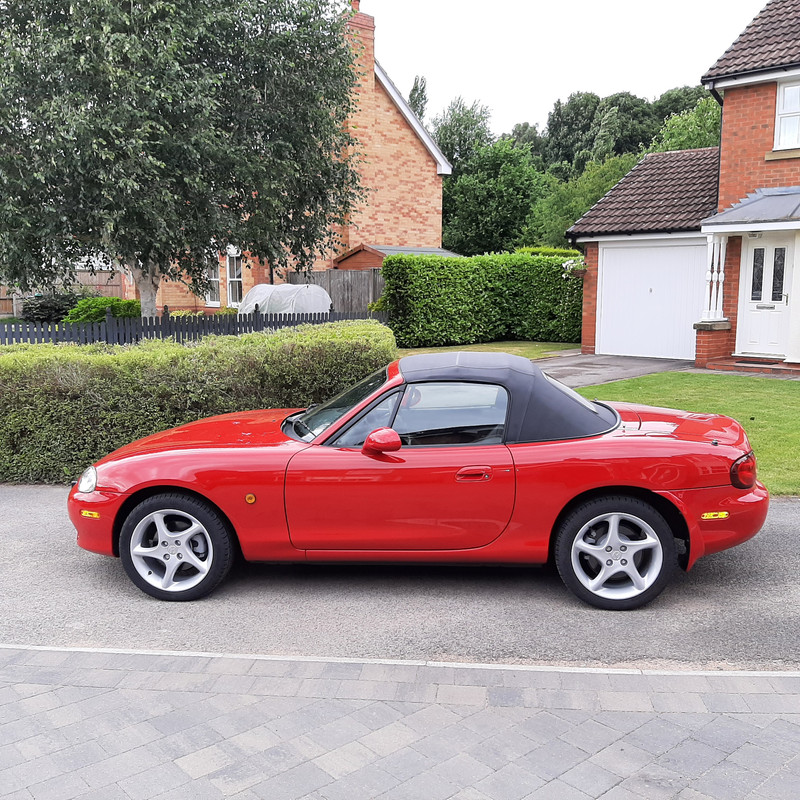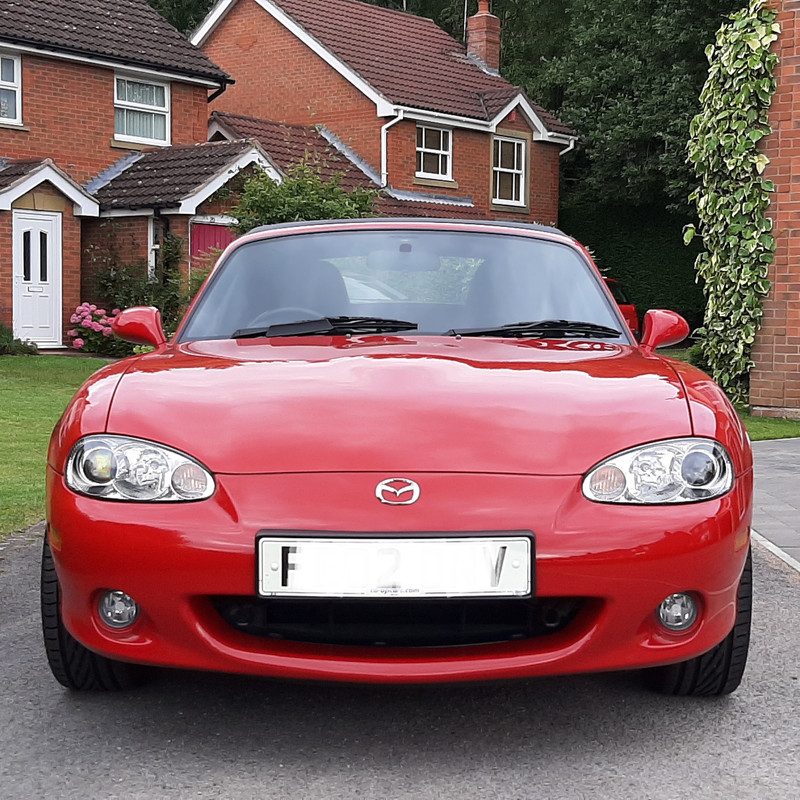 She won't be a daily driver and despite me fitting the rainsport tyres is unlikely to come out unless it's roofdown weather. Hopefully I will get a couple of months more use out of it until tucking it away in the garage for hibernation.
Thanks for reading
James