1992 Mazda Eunos 1.6 Mariner Blue - current mileage 87426 (140,700 Km)

Imported, supplied & registered by AK Automotive / Goodwood sports cars 01/06/2017. 1 subsequent UK owner.
This is my 7th MX5 (my 5th Mk1, including an original 1990 UK SE, and a brand new 1.8i). Having regretted selling each, this one was meant to be kept "forever". However after 3 years of ownership, and having covered only about 1500 miles, it seems to be a waste of a great car. Instead of sitting in a garage it should be out being appreciated and enjoyed.
Imported by Goodwood Sports Cars in 2017, a rust free example, but due to sun damaged paintwork the car underwent a stripdown and a full glass out respray (see image). Due to my personal preference the Eunos was rebadged as an MX5 including a UK number plate surround. In addition a Sony double din android auto head unit fitted. The car subsequently had all suspension shocks and springs replaced by Mx5 specialist Thrussington Garage.
I am a bit of a perfectionist, so I am conscious of some minor imperfections resulting mainly from disturbed seals/trims following the strip/rebuild…. so to me the car isn't perfect…and there is a slight oil leak which I was told was insignificant and not worth addressing.
I am only advertising this here on the mx5 OC site as I would like this car to go to an mx5 enthusiast. The car was serviced (including a brake fluid drain & refill) and MOT'd 12/08/2020. An Advisory notice referred to the minor oil leak & the accompanying receipt noted the the oil was suspected as originating from the old oil filter seal.
It is being offered for sale for a limited time only.
£4250
NOTE: Now on original plate J140 AUX
Goodwood sports cars 2017 "List of works":
Mazda Eunos 1.6 : Date of First Registration: 02/1992
Full Respray in Mariner Blue.
Replace rear number plate panel with UK item. Replace Eunos nose cone badge with UK badge.
New black vinyl soft top fitted with new tension cables. Drain holes checked and cleared.
Supply and fit set of four BBS alloy wheels.
Full four wheel laser alignment carried out. Standard (factory) settings used.
Engine service with new cam belt and water pump fitted. Spark plugs, air and oil filter replaced. Oil changed (using 10-30 semi-synthetic). Gearbox and dif oils checked and topped up. Ignition timing reset. Replacement coil pack fitted (old one had signs of cracking). Lambda sensor replaced. Heater hose replaced (split in old one).
Brakes inspected: discs and pads in good condition. Handbrake adjusted.
Electric window mechanisms cleaned and greased.
Wiper linkage cleaned and greased.
All four shock absorber/spring units replaced with good used UK items - old ones worn.
Speedometer converted to read in miles per hour.
Rear fog light fitted by converting third (high level) brake light.
Underside treated with Dynax S50.
Owner-supplied stereo system fitted
Sony XAV-AX100 6.4 inch Media Receiver with Bluetooth, CarPlay and Android Auto
Thrussington Garage 09/2017 :
Suspension shocks and springs replaced with standard equipment
Condition of cam belt water pump checked
Outer drive belt replaced
Replaced thermostat housing
Additional work ;
Gearshift nylon cup & bush replaced
Headrest speakers replaced (JVC)
Door speakers replaced (JVC)
IL Motorsport black leather gearlever gaiter
IL Motorsport black leather handbrake lever gaiter
Original Mazda fog light switch replaced non standard
Front number plate plinth added
Car mats
Note
2017 serviced and MOT as by Automotive / Goodwood sports cars
2018 mot only (approx 700 miles covered – hence no service)
2019 mot only (approx 500 miles covered – hence no service)
2020 servived (including brake fluid change) & MOT 12/08/2020 (approx 250 miles covered)
Based near Peterborough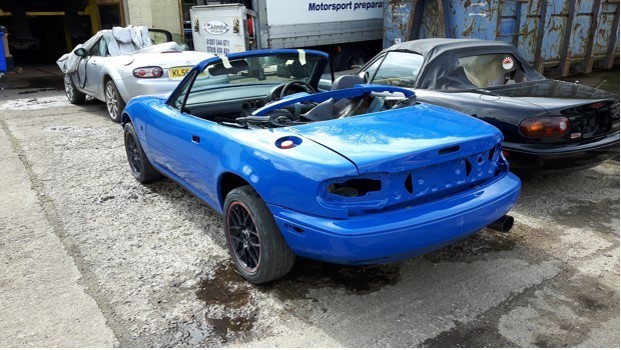 Full glass out respray