Details of the first Solent Area Day Time Drive is give at the following link;
Hi Mal & Terry,
Yep, that sounds like a good way to spend a day, particularly starting with coffee and cake!


Please include Angela and myself on this bimble.
Ron and Angela
Hi Mal,
Is this the Bursledon Brickworks Museum site?
Hi John,
Yes, Wonderberrys is located at Bursledon Brickworks and one can go into the cafe without paying to go into the museum.
Regards
Mal
A quick update for everyone going on this daytime drive.
Here are the names I have thus far, Sunday 6th June.
| Number | Name |
| --- | --- |
| 1 | Mal Rowland* |
| 2 | Serena Rowland |
| 3 | Terry Botto |
| 4 | Diane Botto |
| 5 | Caroline Greest |
| 6 | Nick Greest |
| 7 | Martin Down |
| 8 | Judy Down |
| 9 | Patricia Wheeler |
| 10 | John Wheeler |
| 11 | Val Lazell |
| 12 | Bob Lazell |
| 13 | Geoff Lowe |
| 14 | Colin Reay* |
| 15 | Angela Clarke |
| 16 | Ron Clarke |
Also, if anyone wants a Bacon Sandwich at Wonderberrys, please let me know by responding to this post, so I can give Charlotte & Ann at Wonderberrys a heads up beforehand, for catering /cooking purposes.
Regards
Mal
Bacon sandwich for me please. Thanks, Colin.
For those coming along to the Daytime Drive from wonderberrys to Salterns Car Park, here are the Tulips for the drive for you to print off;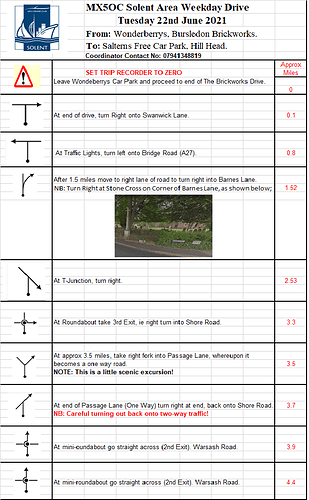 Mal's tip of the day: to print off full size: click the edit pencil and then click on the first inamge that opens up full size. If you now right click, you can select "save image as" and save to your desktop, you will thne be able to print it off and all will be well - he says

Regards
Mal
Hi Mal
Val and I would like to join you for this tour
Regards
Bob
Hi Bob & Val,
No worries, I will put you on the list…
Regards
Mal
Hi Folks, due to the uncertainty of the weather at the moment, when we meet at Wonderberrys, Bursledon Brickworks. There is a room off the main seating area we can gather in and chat over coffee before the drive.
Wonderberrys opens at 09:30. We plan Wonderberrys at 11:00, so of raining there is plenty of time to relax and chat in the dry🙄
Best Regards
Mal & Serena
Hi again Folks, now the Beach BBQ has been done and dusted, I am now turning my attention to the Daytime Drive on 22nd June.
I have modified the list of names in Post #4 that I have for this drive to date - if your name does not appear in the list, please text or email me soonest!
Also, I have put an Asterix (*) against the names of people requiring a bacon sandwich - so if you want a bacon sandwich, please let me know, so I can update the list accordingly.
Best Regards
Mal & Serena
Hi Mal can you book me in please I have not got a printer if you have a spare copy ? Gerry