Good Afternoon
As promised please find attached the route for next weeks run and a copy of the Ffolkes Menu.
Please excuse my feeble attempts to upload the documents in a more professional manner, unfortunately I cannot convert from PDF to GIF very easily, hence the very 'black and white' uploads.
Hope to see you all next week, (if not at the National Rally this weekend)
Barry and Jenny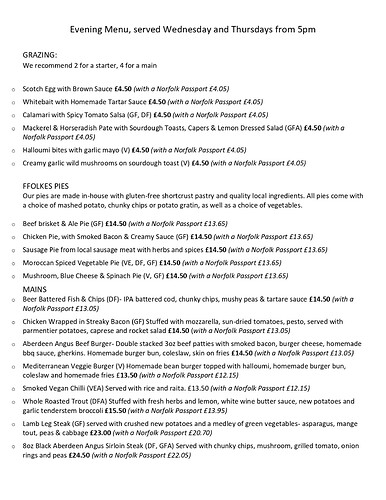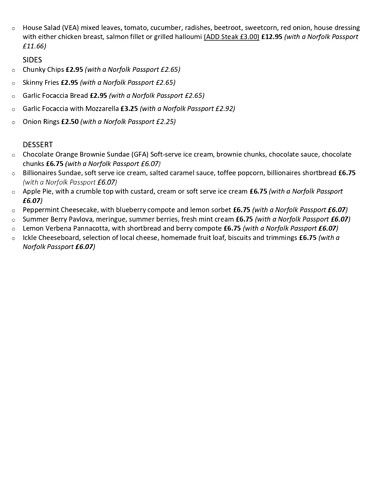 Good Morning
Our next meeting is due in a couple of weeks, so we thought it time to post the details.
Day: Wednesday
Date: 22/09/2021
Time: 19:00hrs
Location: The Ffolkes Arms, Lynn Road, Hillington, Norfolk, PE31 6BJ
At last months meeting it was decided to try and get a short run in before the evenings get too dark, so we are planning to meet at the Ffolkes, go for an approximately 60 minute run and then return to the Ffolkes for a bite to eat.
Due to staff shortages, COVID Regulations and the fact they are currently VERY busy we have only been able to book for between 16 and 20 to eat, so I am afraid you will need to get in early if you want to eat.
The Autumn Menu will be introduced within the next week or so, so I will post it as soon as it is available.
If you are unable to make the start of the run, I will post the route before the date so that you can either meet us on route or at the Ffolkes at 20:00hrs
One for your diaries: West Norfolk Christmas Meal, We have been able to book the Ffolkes on Wednesday 22nd December at 19:00hrs we will be in the main dining hall, (same tables as 2019).
As always, everyone welcome.
Barry and Jenny!