The MX5 has two fuse boxes.

One is handily situated in the engine bay just in front of the driver and in most cases has the fuses nicely labeled on the lid in English. This is a diagram for these fuses in case the fuse box cover is missing.
 


The second fuse box is in an extremely awkward place and on Roadsters, is labeled in Japanese (didn't they know the cars would be exported to Europe later?). You have to be a bit of a contortionist to get to this fuse box as it is under the dash board, above the accelerator pedal against the right hand wall. The cover should contain spare fuses and a fuse puller (little black clothes peg looking thing). The fuses in this box are of the more conventional blade type. Obviously, replace the fuse with the correct type and current rating. If your fuse is the correct type and keeps blowing, there is a problem somewhere. Don't just put in a bigger fuse!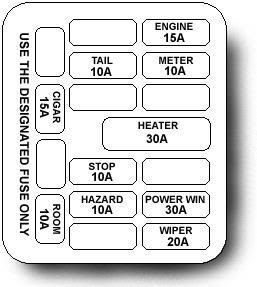 Later Mk1's had a slightly different fuse layout in the second box


The under dash fuse box in the MK2 is behind a removable cover just below the switches to the right of the steering wheel.
Handy hint!
The fuse you are looking for is always the last one you try, so why not try that one first!

Some Mk2 fuses




-------------------------------------------------------------------------------------
Relay Locations

Mk1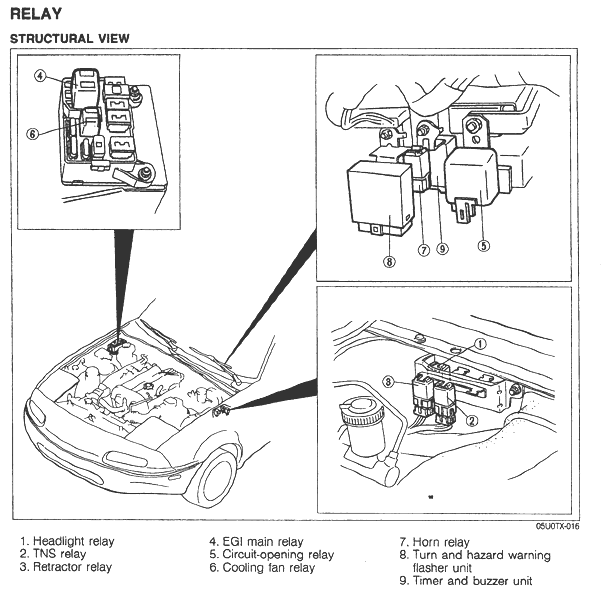 Mk2


_________________