My model of MX-5 is: 1990
I'm based near: Surrey
I'm looking for technical help or recommendations on: water pump
One of my lockdown projects has been restoring a BRG 1990 Eunos Roadster V-Spec. This has involved lots of welding and refurbishment + I've replaced the clutch/flywheel and a number of other components.
After 3+ hours of mainly motorway driving yesterday, the engine started making a bit of a racket. Searching forums, my initial thought was crank wobble (despite having a long nose crank shaft and no wobble being visible). But, I checked the torque of the crank shaft bolt and all the smaller pulley bolts and they were to spec. The 4 small crank shaft pulley bolts were perhaps a smidge under, but they weren't exactly loose.
So, although I can't see any leaking coolant, my next thought is whether the bearings are failing on my water pump. Given that the water pump is a fairly involved job to replace, I'd be very grateful to hear opinions on whether the sound in the below vid points towards this, before I go ordering all parts:
The car's only UK owner serviced it at a Mazda dealer since it was imported from Japan in 2000. The timing and auxiliary belts were last replaced in 2015, although – according to the paperwork – annoyingly they didn't replace the water pump at the same time. And, although the dealer receipt states that all belts were changed, surprisingly the alternator belt is pretty cracked and needs replacing: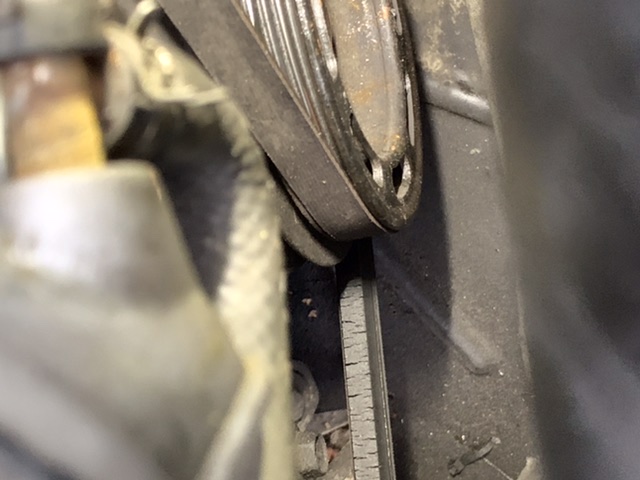 Given all these parts will need to come off again, I'd be interested in hearing opinions on whether I should buy the full £124 Genuine MX-5 parts timing belt kit and replace all the belts, pulleys and gaskets again (assuming a new water pump is needed). Also, open to hearing about any other preventative maintenance pieces or mods worth doing whilst I'm there.
As a slightly strange side point, I did a couple of coolant flushes recently, filling the system up with FL22. I went in to replace a suspected faulty thermostat and, given the dealer history (and one UK lady owner i.e. no track days!), was surprised to find there was no thermostat fitted at all

.
Anyway, thanks in advance for any help

.
Cheers,
Phil