Hi Guys,
What kit do you recommend ?
Was looking in MX5parts website ??
Regards
Mike
Hi,
I've just had a set of Eibach Pro springs fitted and had a four wheel alignment done - the difference is immense. Car sits lower and the handling is superb compared with the stock springs. I use my '5 as a daily commuter along windy B roads and the Eibachs don't make it too harsh. I have read that this set up works well for the Sport with the Bilstien shocks but not so well on the standard '5.
I bought the springs from "D&W The Motion Corporation" in Germany, with the exchange rate they cost £120 delivered - quite a lot cheaper than MX5 Parts. I had my local suspension specialist fit them and do the alignment, another £290. All in all very pleased with the result. Send me a PM with your e-mail address if you'd like a copy of the suspension set up specifications.
Don.
I have meister coilovers
don't waste your money on lowering spring
Hi I have Eibach Pro springs fitted too
 The only downside to this mod is bottoming out, (when driving over bumpy roads the shock absorbers compress against the bumpstops which reduces suspension travel and affects the ride comfort ) I have just, this minute, ordered a set of  (FCM MX5)  sport bumpstops  to replace the originals. Once I have installed them I will be back with  an update.                     
                                      
I have the mazdaspeed springs as I don't like the way the eibach drop the front too low. Also have Rx8 yellow dot ARB's
 double post
I have a standard 1.8 roadster with -30mm Eibach kit. Coming from a Mk1 Eunos with Meisterr' s I am not impressed with the general ride

very "choppy" is probably the best way to describe it? Love how it sits with the springs though. Car came like this when I bought it so can't compare to standard set up. Back end can hop out of line on bumpy corners quite easily too. Shocks are standard that came with the car (50k miles). Interestingly, read what Don said a couple of posts back about the springs not working as well with the standard shocks? Anyone any input to this?
Barrie
I think this probably boils down to money and useage in the end. If I had £600 extra "spare" cash would I have coilovers? Probably yes, but at around £400 fitted including alignment I think the Eibach pro springs offer a greatly improved ride (and look) at a reasonable price, I imagine the Mazda Speed kit would offer a similar improvement. If I were going to do track days I'd probably spend the extra.
Hi,
Had BBR's  suspension on my MK3 NC but the springs have been removed after less
than 500 miles due to the wife not liking the ride saying its not a race car its for pub lunches.
If interested in springs (only) drop me a message.
Ned   
Ned, you have a PM.
Barrie
The Bilstien dampers from the sport model, (must be plenty around if you look for them) with the lowering springs work quite well. The ride is supple and composed and works well on the road. It rolls a bit on track, as it is road suspension and so I would expect the RX-8 anti roll bars are also a good upgrade but not really required for road driving. 
Ok Thanks guys, Car brooked in to BBR for next Thursday for Suspension package & 180 conversion

What model of BC Racing coilovers are they please?  What is the ride like?  I know it won't be as soft as standard, but I don't want too harsh either, as I have no intention of ever using it on a track. Have you any idea what is the maximum ride height of these, i.e the least drop, from OE suspension height?
What is the ride quality like Zeta S's that you have fitted to your car please? Have you any idea what is the maximum ride height of these, i.e the least drop, from OE suspension height?
 My car is a 2006 NC sport with the Bilstein yellow dampers with a low mileage.  I've lowered cars in the past and dislike how the ride height can't be adjusted.  I was going to fit the suspension myself and get it professionally aligned.  Just don't want to mess about with lowering springs if I don't like the outcome. 
Did they make a difference and where did you get them from?
HELP!
I have a 2011 MX5 black edition 2.0 I purchased a full set of bilstein b8's and an eibach pro kit. I had them fitted and the rear is sitting 15mm lower than the front. the front is fine but I'm scaping my ass over everything, I've contacted suppliers, manufacturers, and garages, and nobody can give me a reason or a solution, to the point where someone yesterday told me "your car is wrong". Has anyone come across this before?
Something clearly is not right, I bought the B12 pro kit which is essentially the "same" (B8 damper and Eibach spring with 30 mm drop) as yours and my rear is not like yours. Granted mine is running on 16's but the rolling radius is the same.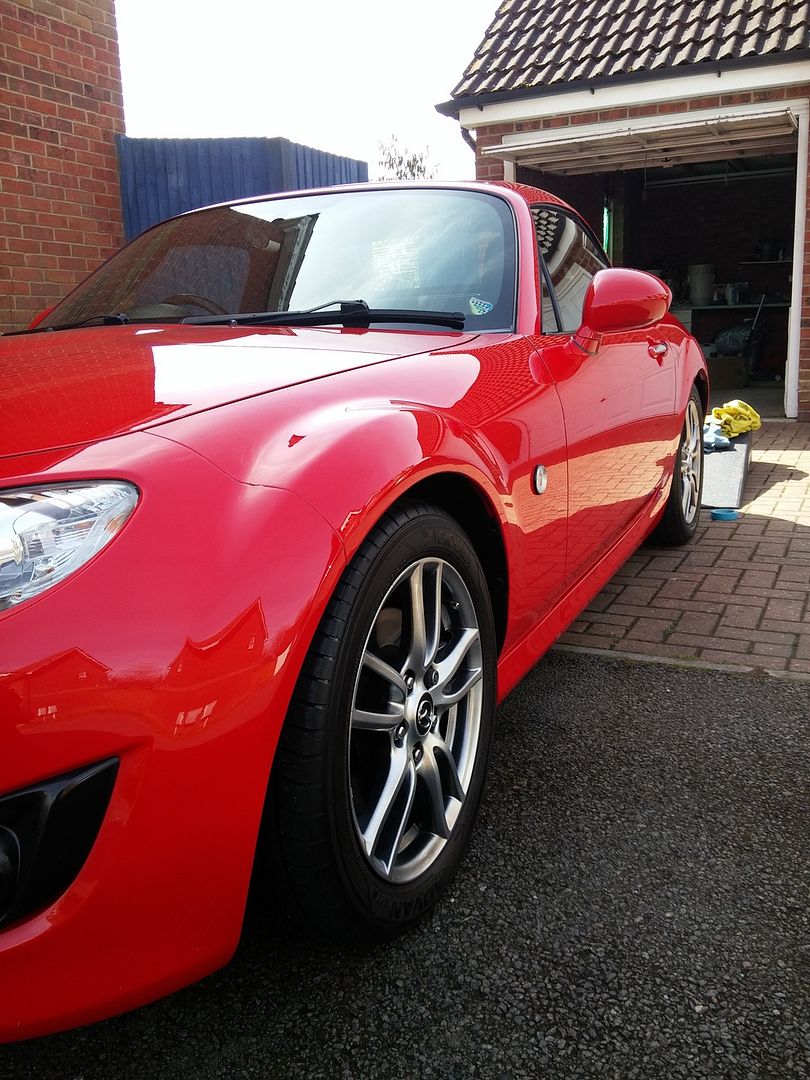 Hi,
you need to ensure that whoever fitted them didn't tighten the swing arm bushes until the wheels were weighted on the ground. The bushes act as a pre load and if they're tightened before the wheels are weighted they will artificially heighten the ride until they fail. It may be that the rear was done correctly and the front incorrectly resulting in the wheelie stance…have it looked at soon so the bushes don't fail. Hope this helps.
Don.
Could be wrong but have they fitted the soft top kit, sure I've read these are not suitable for the PRHT.