My model of MX-5 is: __2006 NC 2.0 litre
I'm based near: __Bristol
I'm looking for technical help or recommendations on: __Emissions and Lambda Sensors!
Hello,
I've got a 2 litre NC with decat manifold and the second (post cat) sensor mapped out (the Skuzzle fast road pack). It's also got a brand new 400 cell centre section cat and the car is failing badly on emissions. The MOT certificate says (I don't have the readings yet):
Exhaust carbon monoxide content after 2nd fast idle exceeds default limits (8.2.1.2 (b))
Exhaust Lambda reading after 2nd fast idle outside specified limits (8.2.1.2 ©)
The mechanic is convinced that the map has slipped and the car is just running rich the whole time. He thinks the answer is a remap and it'll all be fine, the issue is I would need to go to Blink / BBR as I can't find anyone who can work on a flashed ECU near Bristol. However I'm not so sure…
Google says that a failing lambda sensor can have a similar effect and my OBD2 reader sampling at 0.1 seconds showed the O2 bank 1 sensor 1 steady at 0v on a warm engine between idle and 5000 rpm - I expected to see a fluctuation between about 0.4v and 1v based on what the internet tells me!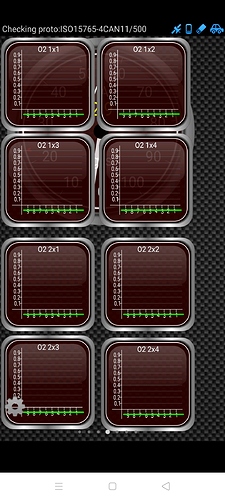 I tracked every version of the sensor incase it was logged differently and they're all the same; I also tracked Mass Air Flow and that varies with throttle so I know the reader is outputting correctly.
Any thoughts on where I go next? This is the first time if used a OBD2 diagnostic tool and I think I'm reading it right but I don't really want to spend money on a new sensor if I'm reading this wrong or not looking in the right place.