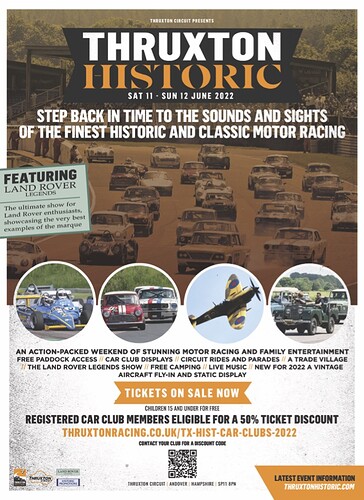 We're delighted to head back to the Thruxton Historic this Summer on Sat 11th - Sun 12th June.
Your member discount code needed to purchase club tickets can be found here
How To purchase tickets with 50% off (day ticket price) and also input your vehicle details for a free club display vehicle pass visit the dedicated car club ticket booking page via this link
Thruxton Historic - Car Clubs 2022 - Thruxton Motorsport Centre (thruxtonracing.co.uk)
Scroll down, select a ticket type and click 'ADD TO BASKET'
Adjust the quantity required (to add a different ticket type go back one page)
Enter the DISCOUNT CODE field (bottom left of the basket) click APPLY
Repeat to apply the discount to each ticket type on the order
Please check the total before clicking PROCEED TO CHECKOUT
Club ticket sales close at 2pm Monday 6th June (subject to availability). Tickets and display vehicle passes will be sent to club members by first class post on or before this date.
Club displays will be on the banking and grass areas in the outfield and our allocated club area will be signposted.