After spending the last hour blindly poking around the cavity under the plastic trim with my tool I finally found the hole! No chance of "any hole is a goal" here. Anyway, enough innuendo.
I'm not sure if my trim is a little loose but I was able to pull it back slightly and realised I could actually see the trombone brush in the drain hole, so I took a picture for future reference. It's not the best photo but you can at least get an idea of the angle and distance needed.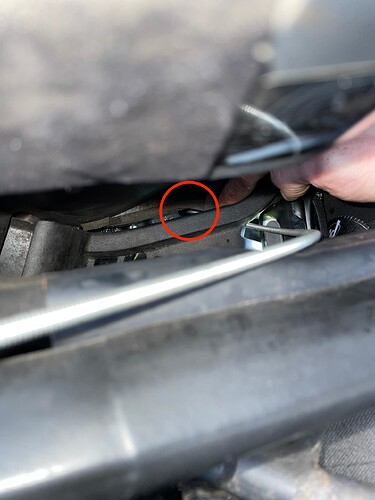 that slither of silver you can see in the red circle is the brush shaft, the left hand side of it is where the hole is located. The lip (my finger is pushing against) is usually right above the hole. This is from the passenger side
Following this discovery I was actually able to locate the drain hole 1st time every time so I thought I'd post it here to hopefully help future hole explorers. I feel like this is the photo the internet is missing but maybe I'm just blowing my own trumpet or should I say trombone since we all have the brush for it.
Hopefully this helps someone somewhere at some point.
Marc