Hi,
After a couple of years away from Japanese sports cars (previously had an MR2, an FTO then an RX8) I decided to treat myself to something fun.
Found this Mk3 Sport Graphite in Blue Mica after popping into the local Mazda garage just to have a look to see what was around. Instantly fell for it on a test drive so bought it there and then.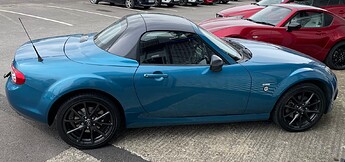 Had it about a month now and other than the TomTom sat nav being a pain (it gets lost!) I'm having great fun in it.