My model of MX-5 is: Mk2 1.8
I'm based near: Woking
I'm looking for technical help or recommendations on: A misfire and condition of my HT leads
One week into Mk2 ownership and loving it, even if the car does have the odd issue. It's not my daily so I want to use each issue as a learning experience.
Today (after a lot of rain) the car developed a misfire. I could tell because the engine noise changed and the car was rumbling a lot.
I turned it off and took a look at the leads, there is a small amount of oil on the bottom of each but nothing drastic. Is that much of a problem? Additionally, one of them however appears to have… prolapsed? I've included a pic below. What's that all about?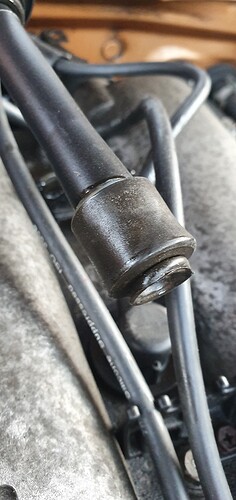 After this quick inspection I fired her up and while the misfire was present for 10 seconds or so, all four cylinders then started running again as normal.
I'd really appreciate your thoughts on the below please:
Is it normal to have a little oil on the bottom of the leads?
Have you ever seen a prolapsed HT lead before? What could have caused it?
Could the prolapsed HT lead be the source of my intermittent misfire?
Should I replace the dodgy lead or perhaps all of them?
Anything else I should investigate to diagnose further?
Thanks a million for your support, really look forward to contributing to this community.