That photo doesn't really do the gathering justice, from that perspective you are unable to see how many lines of cars were really there, not sure how many were there in total, but we were parked in at least the eighth row of 5's, we arrived at 11.20.
Nope. It's deceptive.
Remember Wentworth Woodhouse has the widest frontage in the whole of Europe - and the field in front of it was 'wall-to-wall' packed from one side to the other with Fives - and that field dropped away down to the walkway across the front of the house so all you can see is the back row, or two.
There were HUNDREDS of Fives there. (At a guess 60 columns by 10 rows? Plus there was an extra block of cars back right, out of shot - maybe another 50?)
 I suppose I should have taken one from the steps in front of the house looking at the Fives instead - but it was the house I was interested in 
Great day and a record number of competition entries! I was outside the house, parked with other MK3's and during the morning, there seemed to be a continuous stream of cars coming along the drive into the car park, nice to behold.
Barrie
Thanks for posting that lovely photograph Doug, I would guess there were more than 500 cars there.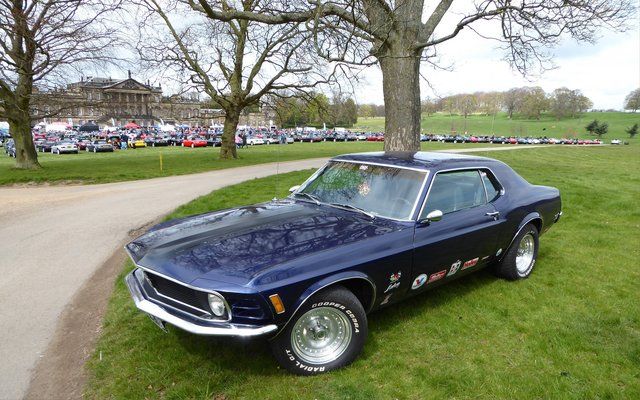 Try this one instead 
Yes it's NOT an MX5 in the foreground but you get a better idea of the number of Fives in the background with this shot…and I still didn't get them all in as there are more unseen to the left 
We were a couple of rows behind you, arriving a few minutes later.  Later at leaving time I was wondering how three would fit into the MX5, but when I saw the excellent Mustang it was obvious…
Here is a photo showing twelve rows and taken about 1.30 when quite a few had already left.
And here is a shot of the house from the same spot
Thanks to the Club for organising this day.  SWMBO was able to squeeze into a tour and reckoned it was well worth the trip.
This may work out a little too large but it's Photobucket, it has been scaled down. You get the idea of the number of cars there, I didn't get them all in.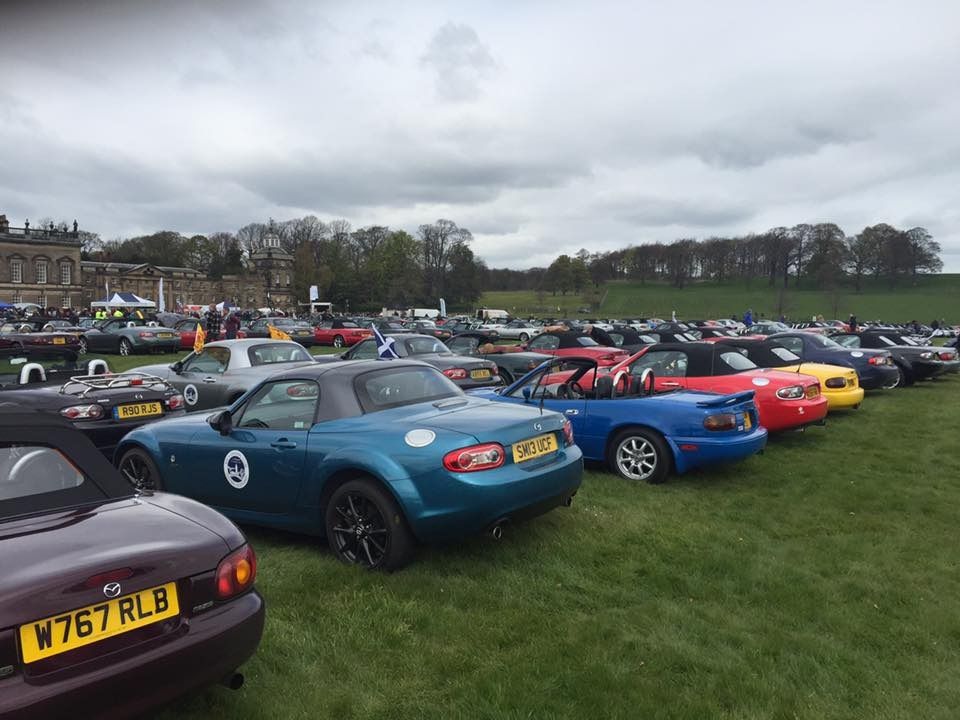 I got a few images from today - http://s1233.photobucket.com/user/T1Famous/story
That's my car! Fame at last…
RichardFX, Thank you for the kind words… Was that you who gave us the wave as we were leaving?
On the gate counter the last I heard as we were parking you all up was 756.
A BIG thank you to all who helped on the day and to all who helped pull the day together in the planning of the event.
Hope you all enjoyed your weekend in Peak & Pennines back garden.
Yes indeed.  And yes it is an excellent car!  I wish I could afford one!
My brother-in-law is an enthusiast for classic American cars, I'm always amazed by his depth of knowledge about them, he very nearly bought a Mustang a few years back, but his garage is not quite wide enough and instead he ended up with his current pride and joy, an immaculate green 1931 UK Ford Model A Victoria.  In the 1970s he owned a red 1964 200cuin Mercury Comet convertible for several years until leaving Rhodesia forced its reluctant sale.  By contrast at the same time my sister drove a frog-eyed Sprite, half the size.
Wow, a genuine Ford Vicky… lucky man your Brother in law! Now I'm jealous.
Thank you for waving, nice to be acknowledged in a none MX-5 on the day 
 You would probably be surprised at how little I paid for the Mustang, The secret is… it's not a fastback and I imported it myself.