Hi all
A couple of weeks back I bought a 2014 MX5 NC 2.0l Sport Venture and absolutely love it! It's done 35k miles and is in really good condition. Here it is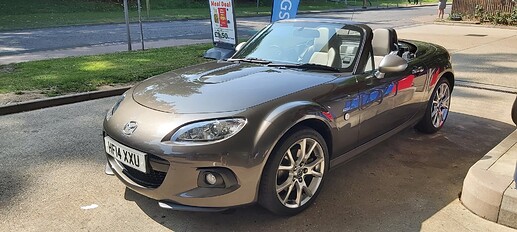 In the last week or so I've noticed a click (rather than a clunk) coming from what sounds like the engine bay in front of the driver, so offside front. Seems to happen just slightly after I've pushed the brake and I only notice it at lowish speeds, but that might just be because I can't hear it when going faster. Also it doesn't seem to happen all the time, probably 80%. Weird.
Brakes seem to work fine, but would love to know what the sound might be. Possibly caliper pins sticking on that brake? I don't have the knowledge or tools to examine the brakes myself so any work will need to be done at a garage.
Any thoughts greatly appreciated!
Thanks