Hi guys

I've been a forum member and an off on fully paid up member for about 15 years but have never really posted much. Mostly because I hate the sound of my own voice (typing) and convince yself nobody would be interested!
Anyway, what with the way of the world at the moment i'm trying to become a better person and more rounded

Having owned 4 Mk1's in varius guises and states of decay when I was younger, in October I purchased this 2010 PRHT: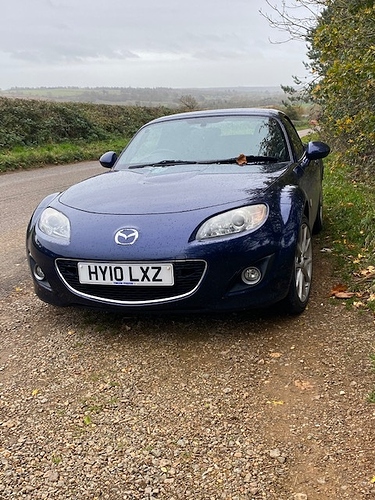 I ordered a BBR Turbo kit but then got made redundant, so cancelled said kit. (And then I got made un-redundant so ordered a Rocketeer kit. How does that happen!? - later!) Well, the BBR Turbo idea was me trying to be sensible but still getting more power and speed from my beloved MX5's. However it wasn't really what I wanted to do, tuning a MK1 had always been a dream of mine and I love v6 engines.
So, being the kind of guy that makes rash decisions, does things in the wrong order and then buggers it all up, I ordered the Rocketeer kit before i'd got myself a new MX5…as my mum would say, "Oh, Andrew…" Even though i'm 38 she still says that, thats one for my counsellor

Anyway, as I write this my new (old) MX5 is at my girlfriends house (she has a garage), and here it is: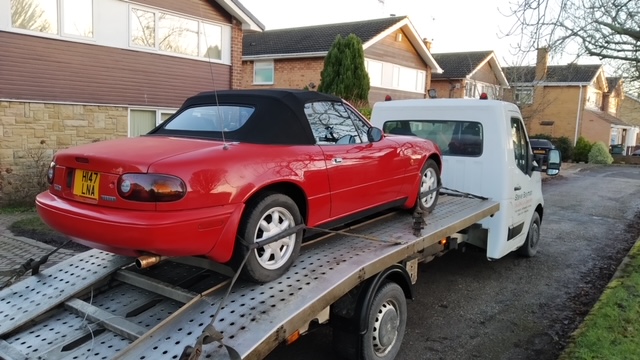 Its a 1990 Eunos, and is in fairly remarkable condition. The only 'downside' being that its an automatic. But after lengthy discussions with bruce and my conscience, buying the right shell is the key and i've got a good un. Well, I think I have. I've never seen it. Now, for some of you this will be a big no-no. You'll be writing me off as a moron, sure to end up somewhere outside of Kettering in a ball of flames, roof down, gurning. I hear you. However, and without going in to it too much - Covid has been tough for all, i'm dealing with that and i've also got MS and suffer pretty badly with depression/anxiety (buying a car unseen didnt really help with that!), so after many man many email exchanges with the previous owner and over 100 photos of all parts of the car sent to me, a deal was done.
With reference to the mental health stuff, I know a lot of people on and off of this forum will be suffering from the same things; some of you will be willing to talk about it and other s won't and thats fine, whatever works for you. I'm not going to talk about it to much because I know it can make people feel awkward or get the wrong idea of me (i'm certainly not looking for attention), but the idea of this post and the updates, is for me to do something out of my comfort zone whilst also providing interesting content to you guys!
I'm also going to start a YouTube vid thing of my Rocketeer build. I know they have been done before, but (from the ones I have seen anyway) the people involved seem to have some idea of what they are doing. I'm, I imagine, like a lot of you guys. A dreamer, likes the idea of being a mechanic, but isn't one. So I hope my updates and videos will serve to motivate and inspire those of you, who like me, are less talented with a spanner.
If all of that fails, see you on the outskirts of Kettering in a ball of flames