Hi guys. Glad the migration was successful! Couple of things I'd like to comment on are:
But once you go into any category/forum, it's gone?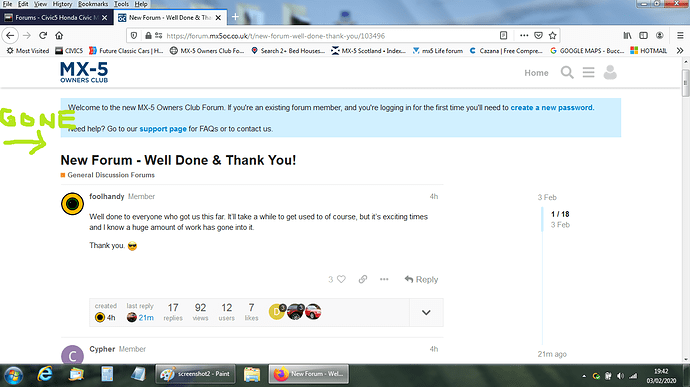 You then need to use the three little bars menu to find categories etc, no other way to navigate. Finding that a bit annoying and clunky. Is there maybe a setting in the backend so that nav menu stays regardless of what page your on? Think it would make it a lot quicker and easier to browse the forum.
Glitch/bug: Noticed while posting this, that if I then use the little reduce button in the top right of my browser (where you have the Minimise. reduce or full screen options) so I can see my desktop to drag photos into the post, the post box keeps jumping up and down? Not sure if that's a glitch maybe, but it isn't something that should be happening. I might try it using other browsers but currently using my default browser which is Firefox.
3.Members cars: I can find "what have you don to your car today" but where are the members cars section gone?
Just small issues, probably just me but did find old forum easier to navigate. Do however like the fact you can easily drag photos into the post!
Congrats on the move though, lots of hard work and looks to be everything has migrated nicely.
Dave