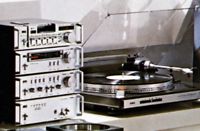 Hi folks, I recently purchased the above AIWA system, in need of a bit of tlc. Sorry for Internet pic but everything isn't together yet. I will post more pics as I get chance. The tape deck, in itself an incredible piece, is at the hi fi shop having a full set of drive belts fitted. I have wanted this particular set up for ages and have been on the look out for one. This popped up in Bristol, I'm in Leeds, with vendor willing to post but I felt it was prudent to collect myself. So, 10 hours and over 500 miles later, it was home 
There were two versions, the H suffix to the unit model numbers denoted the inclusion of rack handles. From the advert pictures, none were showing but when I got there to collect, the vendor said there were some wall mounting brackets but they weren't sure how they fit? In a little box were three out of four sets of the handles and it was a genuine 'H' set up. I was well pleased, but where was the missing set of handles? Vendor said if they found them, they would post on to me, guess what? They found them last week and sent them to me! How good was that?
Now to the good stuff;
the main units are,
AIWA ST R22 FM/AM TUNER
AIWA SDL 22 SINGLE CASSETTE PLAYER/RECORDER WITH DOLBY B ( predates any other Dolby type, B being the first version)
AIWA SAC 22 PRE AMP WITH MANY FEATURES INCLUDING TUNER/2xAUX/PHONO/TAPE/2xMICROPHONE INPUTS
AIWA SAP 22 DC MAIN AMP WITH 2xSELECTABLE SPEAKER OUTS (A+B)
AIWA AP2200 DIRECT DRIVE TURNTABLE 33 & 45 VARIABLE SPEED, S SHAPED TONE ARM FULLY ADJUSTABLE + 2xHEADSHELLS, THE PERSPEX LID IS ALMOST PERFECT!
AIWA SCE 11 BOOKSHELF SPEAKERS (die cast metal bodies)
ALL ORIGINAL PACKAGING BOXES WITH POLYSTYRENE INSERTS
ALL MANUALS FOR EVERY PIECE OF EQUIPMENT
ORIGINAL ADVERTISING BROCHURE
ORIGINAL AIWA INTERCONNECTS FOR ALL UNITS
THIS WAS ALL BOUGHT NEW IN EARLY 1980 BY VENDORS FATHER, SO ONE OWNER!
Back in the day (in this case 1979) AIWA made some really good stuff and this is no exception. Very heavy for a "mini" size system. Actually total 21 kilograms! No lightweight then despite its size 
 Dimension of each main unit are only 210mm wide (excluding rack handles) and 71mm high, speakers only 120mm wide and 187mm high but weigh 5.8 kilograms the pair!
The not quite as good stuff;
Cassette deck required a service and the total of four belts changing, best left in the capable hands of a specialist.
One of the 4" woofers has blown its foam surround. Repairable but I've temporarily installed a pair of JVC units of comparable spec.
The Shure stylus (not high end) was kaput, the MM cartridge was fine, bought a replacement stylus and also a Goldring E3 MM cartridge (again not high end) and stylus for the spare headshell. There is actually a socket on the turntable deck to store it! Also the original 45rpm adapter for this unit. (it has a specific slot cut out for storage under the tone arm rest).
I love stuff like this, TBH, couldn't have afforded to buy almost forty years ago, although I can now enjoy it fully. Hopefully, the cassette deck will be back before Christmas to join the rest of the set up. 
Finally, Mrs B didn't know what to buy me for a Christmas box so has paid for all this stuff instead 
Barrie