Please post all rally reports and pictures of the event in this thread
 A hood down day today…will it last???
Just arrived at our b+b and there a brg mk1 and a nice Classic red mk2 in the car park
Will have to say hello when I see the owners, off to gate crash the gala dinner latter
See you folks tommorow
Alan
Did the Roseland Peninsula Run today (route B). Super sunny day with the top down all the way
.
Some interesting roads:
And some fantastic views/scenary: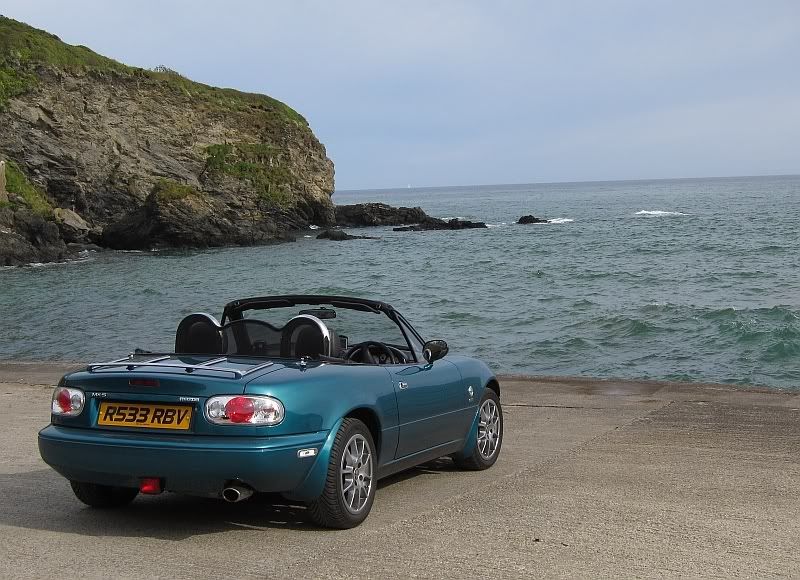 We passed  loads of 5s on the route, and met many members at the stop offs.  A brilliant day - can't wait for tomorrow!
Any other NW Members at the Rally tomorrow?
FANTASTIC day at the Spring Rally today!
View of the rally area from Pendennis Castle:
Our Sparkly Berkeley representing the NW region: 
I can see my car there!!! What a cracking day

Thank you so much to all of the people who arranged everything, and for all Mx5 owners for being, well, just lovely

Ali
x
Wow! Think the top photo has to be a contender for next year`s calendar? Hope the original is mega-megapixels…
Dr. Eunos
Edit…
Actually, quite a few of your photos have got to be contenders Ray, I
 love the photo by the sea too.
I got a couple of nice snaps while walking around trying not to drool too much over the 5's
It is indeed mega-megapixels, but I'm sure many others will have equally as good shots from the excellent vantage point we had from the top of the castle.  As I've said, fantastic venue and day - well done and thank you to the organisers!
It's not actually my place to say this, but on behalf of my fellow Cornish Fives, thanks to everyone who came to the Spring Rally … goodbye, and come back soon!
Cornish 5's - you'll have to put up with us for the rest of the week, and we'll have to put up with more stunning coastal scenary, fantastic drives and loads of sunshine
 … plus I'm sure we'll be back for more!
Got this shot as we were leaving the rally …  not often you get to park at the front door of a castle … might just pass it off as our holiday residence when we get home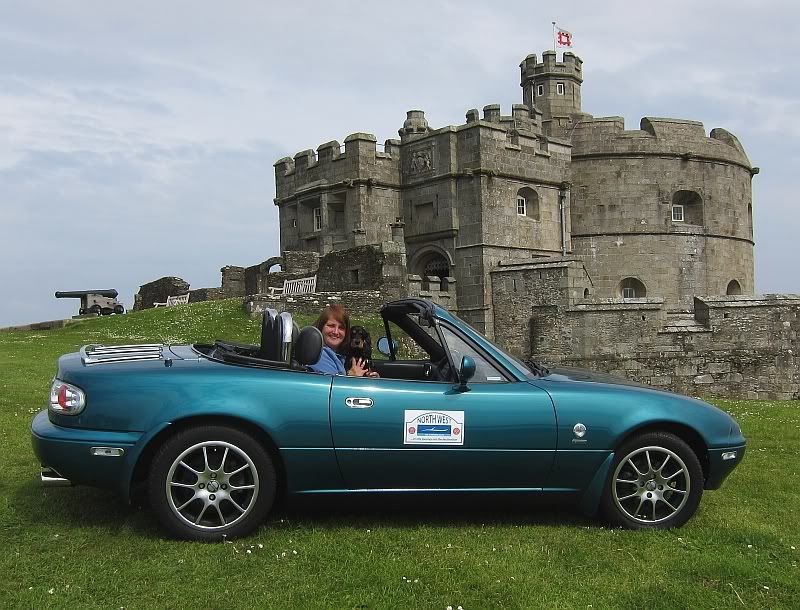 A great venue, a great day, a great crown and even the sun came in the afternoon.
 I would just like to thank the Cornish Five for an excellent event and what has to be one of the best loctions you could have asked for.
An excellant rally, good to see some old faces again and have a nose round some fantastic cars.
 With MX Brat's being the best…
Don't think we could have asked for a better venue, top marks to the cornish 5's for that!
 Very many thanks to the Cornish 5's, what a fantastic event this was. Also, many thanks to those people who stopped to talk to me as I sat on my own eating my picnic, to the couples I sat with at Dinner and to the couple from my local group who led the way to Lands End and back again on Saturday afternoon so I could follow the planned route.
I was going to upload photos but can't seem to find my phone or camera at the moment!!
 A big thank you to all the Cornish Piskies for a great Spring Rally.
The 700 + Mile round trip was defo worth it and it was just a shame we couldn't do the drives on the saturday.
The ussual names and face of the "big" club, your hard work is appreciated.
Thanks to all the people who came and chated about "sparkle" Or generaly about things that go quickly!
I really chuckled at the very digifeid mature couple who asked me about top speeds…Expressing that they had  " ONLY got 115mph out of theire Mk2" not what I was expecting as many boast about never reving above 4000…
And lastly thank you to the couple(rob + tara???) in the BRG Mk1 who jump started me on Sunday morning having left my lights on and resulting in a flat battery. I hope you enjoy the small gift as appreciation.
Sparkle probally will not be at the National, so the Cool Mk1 trophy will be up for grabs and Uma may or may not be in the HOT car class(going for a hat trick) depending on what im doing on the day.
See you at the Blyton Bash…that world record would have fallen if all the cars who came to the spring make it on the Sunday.
And then Prescot in September…ooohh more stuff with fast cars…
Thank you all again
Alan + Helen Robinson
 Thanks to all the organisers, helpers and gophers. You all did a great job. Wonderful dinner on Saturday amd a well organised rally on Sunday.
Top down all the way home!!
Scotland next spring??
Chris