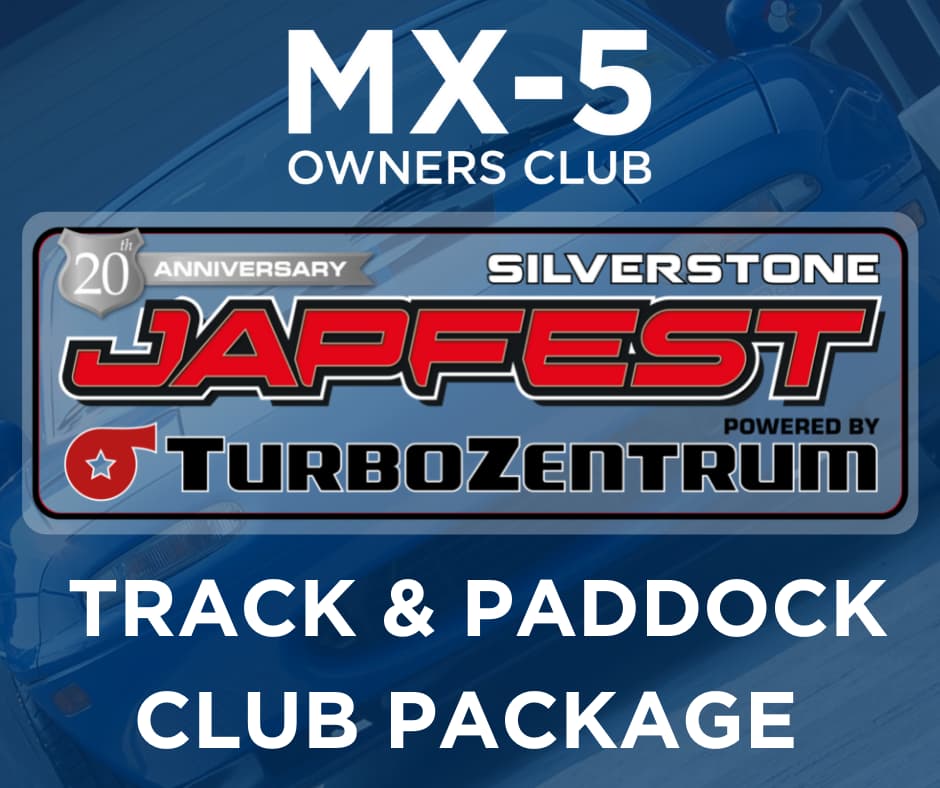 Member Japfest Plus Package Ticket Link
The Club is pleased to once again be a key sponsor for Japfest, especially in helping them to celebrate the event's 20th anniversary year and in helping to ensure the MX-5 will feature across the event.
Japfest Silverstone is Europe's biggest Japanese car show and there is no better way to experience this high-octane show than as part of the MX-5 Owners Club display.
With our members anniversary package you can enjoy the very best the show has to offer, exhibit your car at the centre of the event and enjoy an exclusive MX-5 Silverstone morning track session as part of your day.
The Club ticket includes entry for your car, 2x adults, space on special display in Pit Paddock area and access Club stand, plus access to our MX-5 only track session, as well as entry into an MX-5 competition on the day.
We have just 30 display spots, these are priced at £89 and while this is a unique saving over £22 on booking direct.
Experience non-stop high-speed performance track action including spectacular drifting displays, a huge retail village and over 4,000 cars on display from the UK's thriving club scene. Firmly established as Europe's biggest Japanese car show, Japfest is the premier event for the serious enthusiast with all day edge-of-the-seat track action; this show never ceases to amaze.
If you have already bought Japfest tickets, these are not valid for this offer, best to ask for refund
The MX-5 track session is not available separately, but may become available.
Japfest is always busy! Getting into Silverstone can take over an hour in the final mile up to the gates - and you should plan to arrive early. Our stand needs to pe parked before the show opening and there will be a track briefing at 9.45am.
Ticket link
Member Japfest Plus Package Ticket Link