My model of MX-5 is: 2.0 2008 NC (101,500 miles)
I'm based near: Berkshire
I'm looking for technical help or recommendations on: overheating issues
To preface the post - since Wednesday my cooling fan has been coming in after I've stopped driving. I assumed it was alright as it's typical for a general car (never happened before with my MX5 but you never know). I only did a couple of miles on Thursday, then on Friday after about 9 miles from home my coolant exploded all over my engine. I topped it up but it still wouldn't drive without overheating so I got a tow home (I bled the system in the ways I found online). I took it out again today and it did about 3 miles before the temperature started to climb all that way to the top. The expansion tank and cap both appear to be in alright condition so I was wondering if there was anything else that could've gone wrong?
The other thing is that (in the picture attached) the top (circled) pipe gets hot whilst the pipe below stays cold and was wondering if this was okay or this could be something to do with the problem?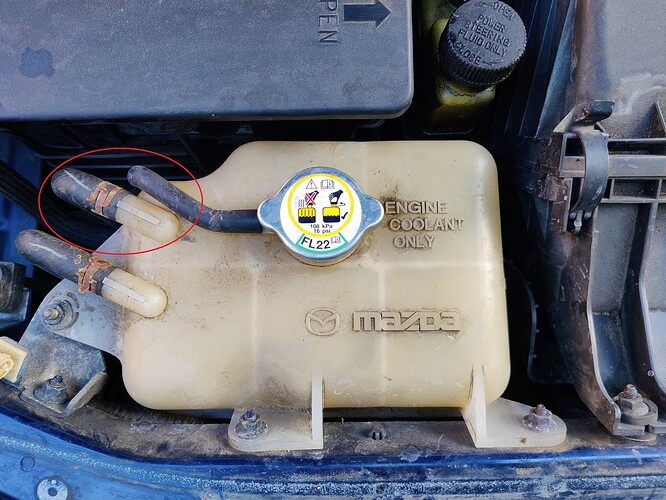 Thanks for any replies anybody can give.
Edit: does anybody know anything about ERA thermostats as there's nothing obvious online about them but I can get one tomorrow if they're good.
Edit: it has been solved! The thermostat went, I put in a new one today and the car is running at normal temps again. I put the solution as the link on how to change your thermostat in case this ever happens to anybody else. (As it doesn't mention in the guide, my thermostat had 7mm bolts so you'll need a 7mm and 8mm to get everything off)