Note that I'm not an automotive specialist, I'm a systems engineer working at an aerospace landing gear manufacturer. These are simply my personal thoughts regarding ownership of an mx5 NC and a platform for discussion with others similar minded people perhaps more familiar with the subject. I see this thread as an attempt to summarize the reasons why would one perhaps want to change the stock suspension in their mx5.
First of all some suspension fundamentals…
What is a coilover
Another good video about coilovers in an mx5 from Good-Win Racing
A video explaining the antiroll bars in an mx5 from Good-Win Racing
After reading various threads about people swapping the stock springs or wanting to change the suspension coilovers altogether in a perfectly working mx5, I'm sat here just wondering why?? and whether I'm missing the point?
And If I'm honest I could not really find a single point of reference for a definite answer so in order to understand what's going on I have to figure this out on my own…
Basic principles:
The whole point for reducing the height of a car from the ground is to lower the centre of gravity. That reduces the weight transfer both during braking and during cornering (reduces the moment generated during body roll in respect to the car CG).
However reducing ride height you are reducing available shock absorber travel. If you reduce shock absorber travel you have to increase the spring stiffness (because you don't want the car suspension to bottom out) if one assumes the same maximum loads will be applied through the suspension. However you also have to increase the antiroll bar stiffness. This is because the car suspension wont be balanced if you simply just arbitrary change the springs in the suspension. Also if you lower the car the end links that connect the wishbone to the antiroll bar also technically need to change. This is because the stock end links that come with an mx5 are fixed length so the moment arm transferred through the antiroll bar will be different from what the antiroll bar was designed to, if the car is lowered.
A good video on the principles discussed above can be viewed here.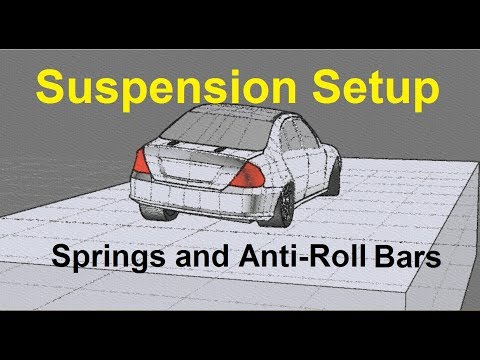 In addition, Jason from Engineering Explained explains the difference between Soft and Stiff springs in a car and why a stiff suspension is used in race cars.
As explained above, a stiffer suspension should be great on track use because you keep the wheel and steering geometry firm. But compared to normal roads there far less bumps on a track therefore a track focused car will be twitchy if driven on normal roads as the bumps are larger and you will bottom out the suspension. And the other fact is that if we change the spring rates and mess with the anti roll bar spring rates we are effectively changing the handling of the car, which the mx5 is known to be great fun, easy and forgiving car to drive.
So I keep asking myself why would I want to change the car stock handling, Is there a problem I cant see? And to find my answer I need to ask myself, what do I want from my car? Where will I use my mx5?
Note that before you even think about changing any suspension components if your car is not handling right, check tyre pressures. You dramatically can change the handling of the car by setting the wrong tyre pressures - so if you haven't bothered to check and ensure your tyre pressures are correct you shouldn't be looking at making any changes in the suspension system.
Your tyres is a part of your suspension. So if you have a 17" or a 16" wheel it will make a difference how the car handles and absorbs bumps. If your tyres are old, change the tyres.
Now lets look at the requirements for a Track car:
I completely understand if you want to have a track focused mx5 to go through the expense of getting the roll cage, chassis stiffening braces as well as a fully adjustable coilover system where you can adjust the ride height, change the damping, have the ability to swap the springs if you need to. It wouldn't be unusual to have different suspension settings for each track. But if you have a fully adjustable suspension you should also change the antiroll bars and links with the adjustable type, as well as changing the stock rubber bushes (that may be too old and have too much play thus need changing anyway) to something with less compliance - this will help ensure the wheel/steering geometry is retained at the expense of comfortable ride.
Note that this implies that the owner/driver or someone competent (either paid or team resource) would be able to understand and make the necessary changes to the suspension as needed.
On a side note if you are thinking about modifying a car for track use "Car Throttle" did a somewhat interesting video series on the effect of changing tyres, suspension, brakes, reducing weight
and various other modifications on to a car and their effect of reducing lap imes

Now lets look at the requirements for a Road Car with the occasional tack day use:
I believe most of us will be in this category. This solution may involve a suspension system somewhere between stock and a fully adjustable coilover system and antiroll bars.
I would argue that for some people leaving the car as is may be a valid solution. "if it ain't broke don't try fix it" sort of speaking.
For others you could get away with an non adjustable coilover system with suitable spring and damping characteristics and perhaps make the necessary adjustments to the antiroll bars and links to suit the suspension. Because the changes would be fixed and non adjustable I would expect this work to be done by someone that knows what they are doing - to reduce expenses and the pain having to go through further purchases and modifications on the long term. On the other hand I would also expect to hear that some companies will happily sell you a fully adjustable expensive suspension upgrade to someone that don't really need it/are not going to use it…
So what is the conclusion…
As an engineer I am a member of the "if it ain't broke don't try fix it" cult. So I am extremely reluctant to go modify something unless I know exactly what I'm doing or the reasons why I am doing it.
So I think it depends on the individual. I believe I have summarised the requirements above; think what you want from your car and what you want it to do. Personally I would encourage you before buying anything to find a reputable mx5 suspension specialist and make an appointment for a chat. I believe knowing the fundamentals and understanding what you want from the car you can make an educated decision on what you should be doing - if anything really.
I hope this helps…
Edit 09/04/2022. An attendum to this article/post.
I came across an interesting talk about aftermarket suspension - not specifically aimed at a particular brand but more about the design principles that went into some brand offerings and how their adjustable coilover designs work and goes into the why some adjustable coilover designs will be compromised by using off the shelf standard damping chamber components matched with various bottom housing compared to adjustable coilovers made specifically for the mx5.
I highly recommend anyone who is interested about car suspension to watch this.
I also believe not enough is being said about the importance of swing bars and how they can influence your car handling. Again for the same reason as above i highly recommend watching this video to explain the reasons why one should look into adjustable swing bars.